M8D Virtual Reality Headset for Smartphones
"Crafted for Everyday Use"

● Durable & Reliable (Water + Coffee Resistant)
● Use innovative suction technology to hold your smart device in place. You don't even have to take cover off your smartphone.
● Works with smartphones up to 3"x6" in size
● Compact & Lightweight - Quickly collapses into a self-contained case to fit into your pocket or purse.
● Adaptable - Compatible with headphones, headgear, and haptic devices. It's easy to use. You can also use the optional elastic straps for hands-free use.
● Adjustable - No predefined distance necessary between the optical lenses and the smart device. Just adjust the M8D Virtual Reality Headset's adjustable lens system, and watch in comfort.
● Shipping in June 2015




$35.00 before May 2015

(MSRP will be $4

0)

Extra shipping charges may apply

What is Virtual Reality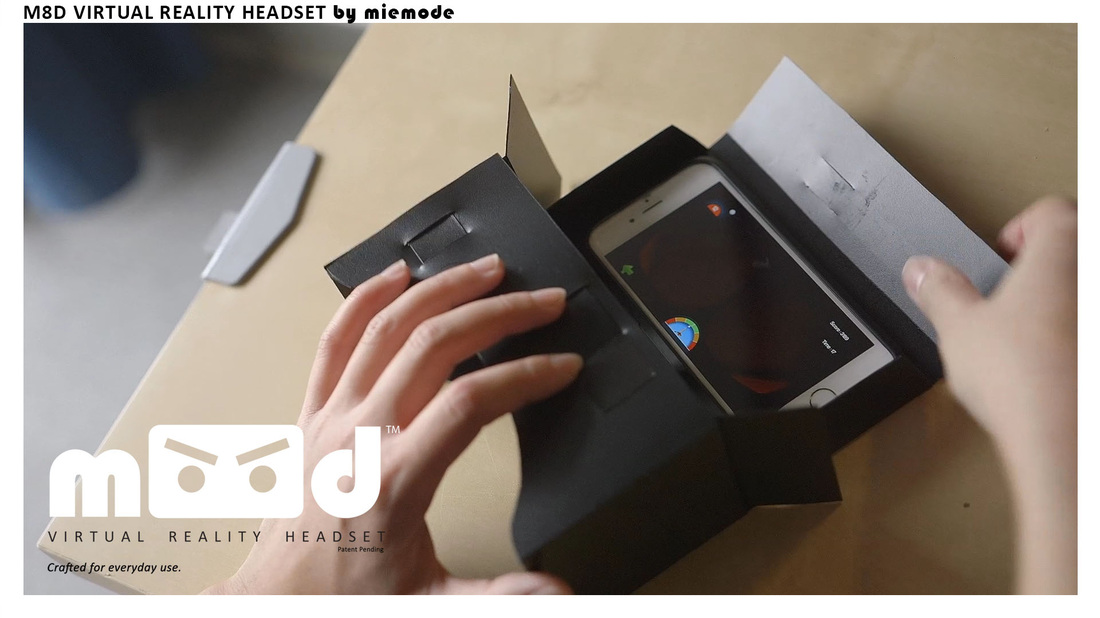 For many the term "virtual reality" (VR) is well known, but we feel that when conducting a fundraising campaign it's only best to describe what VR is, for the less aware. Virtual reality is like looking at a screen (ie t.v., movie screen, etc.), but in 3D. Through the use of glasses, goggles, helmets or other head devices, what you view is as if you were in a three-dimensional environment. Images seem to move to and away from you and many times the worlds you're virtually in can even be virtually interacted in, as virtually touch and even grasp objects around you.

Today at Miemode, we're pleased to announce that we have entered the production of these virtual worlds by developing both the software that creates them, as well as the headgear used to experience them.

M8D Virtual Reality Headset & Brave the Wave VR App

As we were developing a virtual reality smartphone game app, Brave the Wave VR, exclusively designed for use with M8D (pronounced MADE) VR Headset (set to launch in the next couple of weeks), we tested a number of VR viewers currently on the market. What we came to discovered was that few if any were ideal. Each viewer seemed to have an ideal feature, but also seemed to lack in other areas. If one VR viewer was lightweight, it was often made of paper, cardboard or even a leather (synthetic or otherwise), and it therefore was not water resistant. Though they were all portable, most of them couldn't even withstand a cup of java being poured on them without them seeing their destruction, or at least a permanent eye-sore stain. If another VR viewer was durable then it was often typically made of heavy material, thus missing the opportunity to be lightweight - and the list goes on.

It was in the process of developing our VR game app, Brave the Wave VR, that we came up with the idea to not only create our premier 3d virtual world app, but to create the M8D (pronounced as MADE) Virtual Reality Headset, crafted for everyday use. Simply download virtual reality software applications onto your smart device and use M8D to view the three-dimensional images through adjustable lens system, tailored to your personal comfort.
M8D Virtual Reality Headset Point-by Point

Durable & Reliable - Designed to be water and coffee resistant. The innovative suction technology holds your smart device in place. You don't even have to take the cover off your smartphone! Works with smartphones up to 3"x6" in size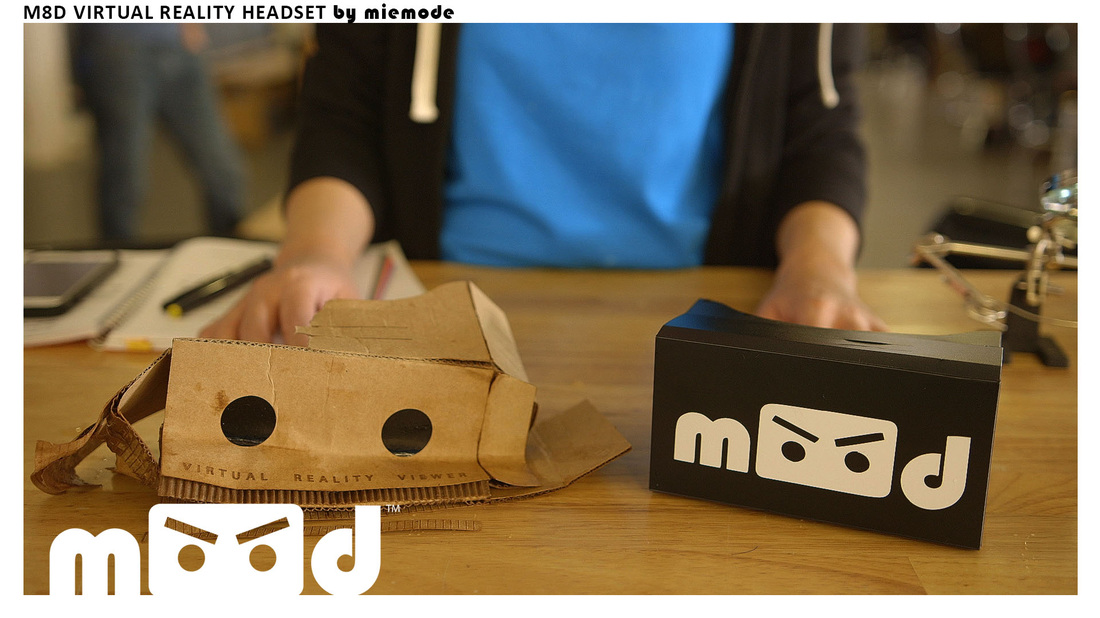 Compact & Lightweight - Quickly collapses into a self-contained case to fit into your pocket or purse.
Adaptable - M8D is compatible with headphones, headgear, and haptic devices. It's easy to use. You can also use the optional elastic straps for hands-free use.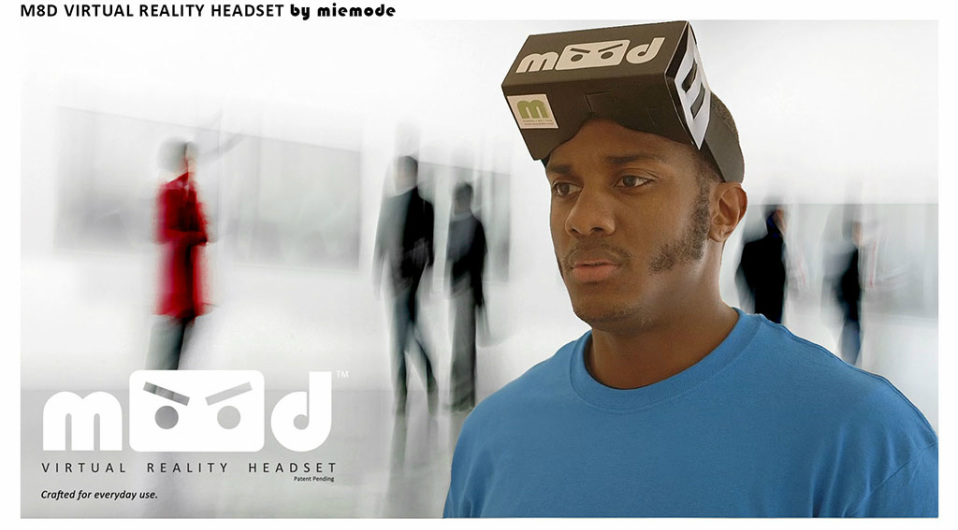 Adjustable - There's no predefined distance necessary between the optical lenses and the smart device. Just adjust the M8D Virtual Reality Headset's adjustable lens system, and watch in comfort.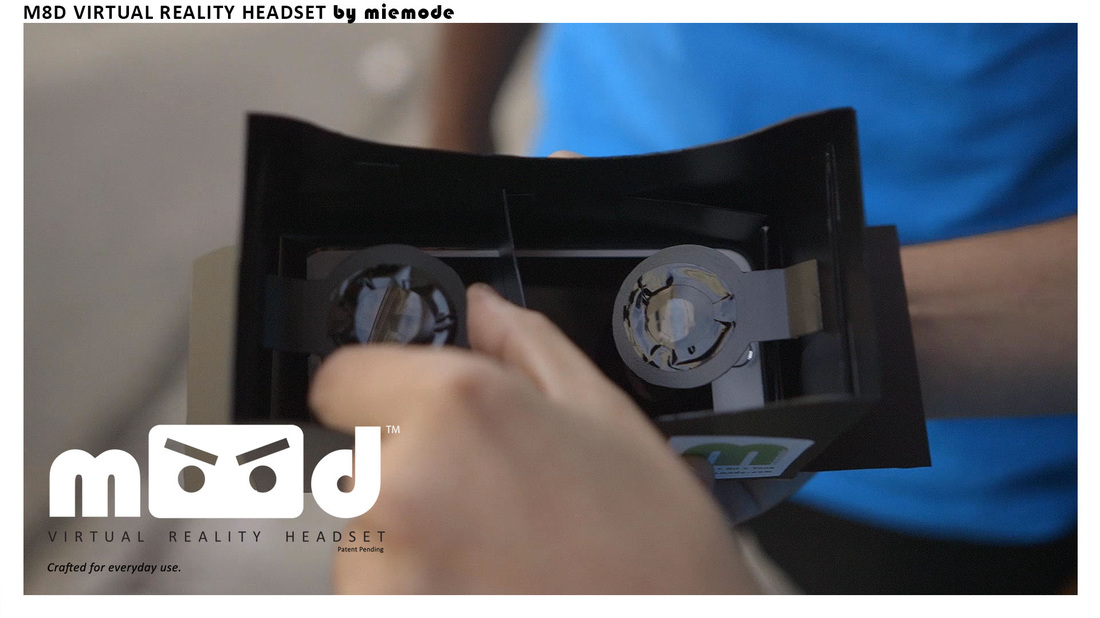 Brave the Wave VR App Coming Soon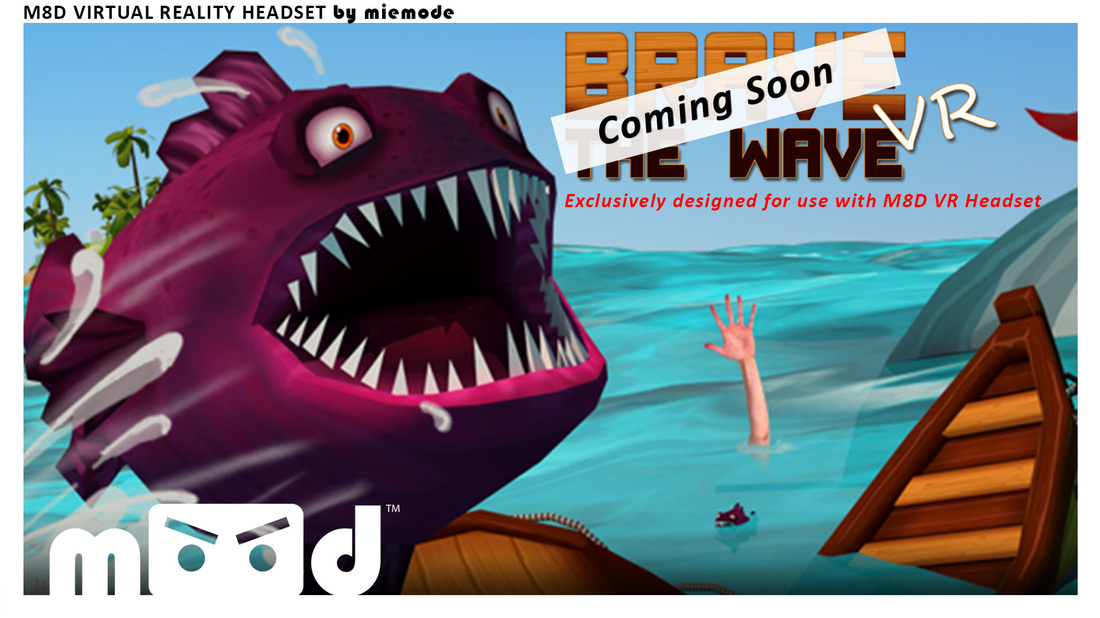 You're stranded at sea and have your hopes and sights set on reaching an island safely. You soon realize though that you're not alone, as both elements and creatures seemingly have other less fortunate plans for you.
Brave the Wave VR 3D Game Play
● Sway from L to R to avoid lightning striking the boat
● Balance your boat as bird poop accumulates and tilts it left and right
● Dodge flying piranhas as the tasty buffet comes towards you with decapitating force
● Keep your boat afloat as rainstorms threaten your hopes of reaching land
● All the while, find items all along the way that will help you reach your goal:
○ Food (increase your energy and get better reflex to defend against challenges)
○ Equipment (Grab better equipment to reach land, such an oar, a motor and more)